European Style Outdoor Wooden Shutters
European Style Outdoor Wooden Window Shutters in Perth, Western Australia and Australia wide.
Interested in securing and adding value to your home in Perth, Western Australia or any other state in Australia. Then read on as this website will guide you on how to order European Style Outdoor Wooden Window Shutters which are made in Italy and shipped directly from the manufacturer over to Australia. The reason I decided to promote this manufacturer on the web was because having visited Italy I was overwhelmed by the different styles of outdoor window shutters and the security it provided to their homes, instead of the rather familiar unsightly Colorbond roller-shutters one finds installed in most homes in Australia. I decided to request for a quote for all my windows and bi-fold doors and was happy with the total costs, which by the way is quoted in Euros.
These Outdoor Wooden Window Shutters are strong and when fitted properly will provide you with far better security than any other type of outdoor window shutters found in Australia.
About Wooden Window Shutters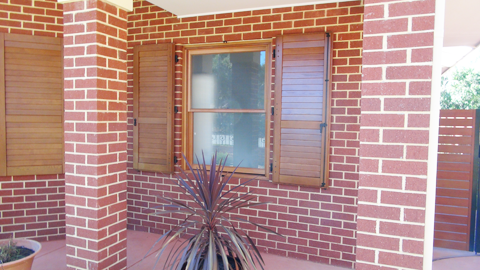 The manufacturer is based in Northern Italy and makes the Wooden Window and Door shutters in their own factory and ships them over to Australia. There are no third party commissions paid to salesmen as you deal directly with the manufacturer and pay the manufacturer directly.

If further information is required you may ring Gamini on 0450 562 725 to discuss on how to proceed.